Sunrise in the News
Sunrise Skilled Nursing & Rehab Joins Movement for Alzheimer's Awareness
Skilled Nursing Facility "Goes Purple"; Holds Other Support Activities
June 23, 2023
More than 6 million Americans are living with Alzheimer's Disease, says the Alzheimer's Association, reminding us that June is Alzheimer's and Brain Awareness Month.
To show its support, Sunrise Skilled Nursing & Rehab is joining individuals and organizations around the world in holding activities to raise awareness of Alzheimer's and other forms of dementia. The skilled nursing facility, in Virden, is "going purple," the official color of Alzheimer's awareness, to educate people about this condition and raise funds to help those with the disease.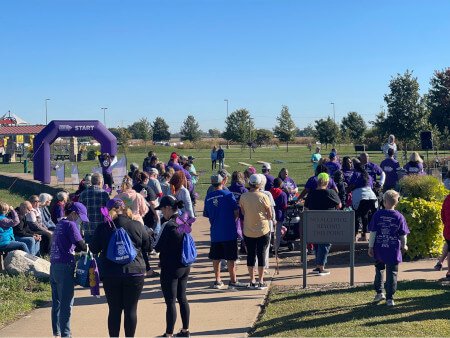 Alzheimer's is the most common cause of dementia - a general term for memory loss and other cognitive abilities serious enough to interfere with daily life. Alzheimer's disease accounts for 60% to 80% of dementia cases.
"Sunrise Skilled Nursing & Rehab cares for many people in the community with memory conditions, including dementia and Alzheimer's," said its administrator, CEO/Patty Barnes. "We realize how important it is for these patients to be nurtured and get specialized care in a compassionate environment. We also want to do our part in helping to accelerate critical research and find a cure."
To enable that treatment, the facility has a dedicated, secure unit with 85 beds, where residents with Alzheimer's disease and other memory conditions are cared for.
Skilled Nursing Facility Holding Alzheimer's Events
To raise awareness during Alzheimer's and Brain Awareness Month, Hallmark Healthcare of Carlinville will "go purple" by participating in the Walk to End Alzheimer's. The facility has been an event sponsor for the past three years. Events like these raise money to help find a cure for this disease.
About Sunrise Skilled Nursing & Rehab Sunrise Skilled Nursing & Rehab is an 85-bed skilled nursing facility in Virden, Ill., providing long-term care, short-term care, rehabilitation, occupational therapy, physical therapy, rehab-to-home, speech therapy, hospice care, respite care, and a secure memory care unit. The center is currently accepting new admissions for short-term rehabilitation and long-term care. For further information, please contact Sonnie Loschen at 217-851-0455 or sloschen@cresthcc.com or visit our website at www.sunrise-snr.com.
Sunrise Skilled Nursing & Rehab Honors Its Nursing and Facility Staff for Providing High-Quality, Compassionate Care
Facility Events Celebrate Both "National Nurses Week" and "National Skilled Nursing Care Week"
May 22, 2023
Sunrise Skilled Nursing & Rehab, in Virden, Ill. has honored its nurses during National Nurses Week for the vital roles they have played during the past year in providing compassionate care to facility residents.
Then, the following week, all of the facility's staff were celebrated for delivering high-quality care to hundreds of Illinois' seniors and individuals with disabilities during National Skilled Nursing Care Week.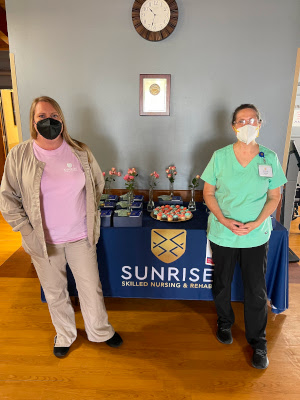 National Nurses Week begins each year on May 6 and ends on May 12, Florence Nightingale's birthday.  While nurses are appreciated throughout the year, this week is designated for special events to mark the contributions they make to their community.
Right after National Nurses Week is the annual observance of National Skilled Nursing Care Week, May 14 to May 20. Established in 1967 by the American Health Care Association, the celebration week this year has adopted the theme "Cultivating Kindness," recognizing the compassion provided at skilled nursing facilities when improving health and strengthening human connections.
"Watching the countless acts of kindness that take place every day in our center, I am both grateful and amazed by our staff, who seem to personify compassion as well as competence," said Patty Barnes, CEO/administrator of Sunrise. "Not only is our skilled nursing care facility committed to providing a high level of care for our residents at all times, but our staff is especially sensitive to residents' need for one-on-one social connections."
Sunrise Skilled Nursing & Rehab marked the two, week-long celebrations with several special activities, including:
Gifting each nurse a small bouquet of roses to remind them they are loved by the residents and their coworkers
Special Sunrise keepsakes including hot/cold packs, pens, note pads, and shot glasses
Customized cups with their name on them and special drinks inside.
Special lunches to recognize their hard work
Ads in local media letting the community know how much the facility appreciates them
"We show appreciation for our nursing staff and facility colleagues every day but especially during nurses and skilled nursing care weeks," Williams added. "They are a huge part of our residents' lives and vital pieces of our building."
About National Nurses Week
To acknowledge the contributions of nurses and call attention to their working conditions, the International Council of Nurses established May 12 as International Nurses Day in 1974. The celebration was extended to a week a few years later, and National Nurses Week was officially born in 1994. Sponsored and promoted by the American Nurses Association, the week-long event highlights the crucial contributions that nurses make to the community.
About National Skilled Nursing Care Week
National Skilled Nursing Care Week recognizes the essential role of skilled nursing care centers in caring for America's elderly and disabled. The week-long observance starts each year on Mother's Day and is celebrated through the following Saturday.
About Sunrise Skilled Nursing & Rehab Sunrise Skilled Nursing & Rehab is an 85-bed skilled nursing facility in Virden, Ill., providing long-term care, short-term care, rehabilitation, occupational therapy, physical therapy, rehab-to-home, speech therapy, hospice care, respite care, and a secure memory care unit. The center is currently accepting new admissions for short-term rehabilitation and long-term care. For further information, please contact Sonnie Loschen at 217-851-0455 or by email at sloschen@cresthcc.com. Please visit our website and take a virtual tour at www.sunrise-snr.com.
Sunrise Skilled Nursing & Rehab Center Observes "National Wear Red Day"
Skilled Nursing Facility Kicks Off Month Dedicated to Cardiovascular Health Awareness
Feb 17, 2023
The staff at Sunrise Skilled Nursing & Rehab showed its support in the fight against heart disease by donning red attire on National Wear Red Day, observed on Friday, February 3. The initiative is part of the American Heart Association's Go Red for Women campaign to spread heart health awareness.
Cardiovascular disease is the leading cause of death in the U.S., and largely preventable. To help reduce this toll, February is also American Heart Month, a time for the entire community to focus on improving cardiovascular health.
"The Sunrise staff's observance of National Wear Red Day was focused on promoting healthy activities and behaviors for members of the community," said Patty Barnes, the facility's CEO/Administrator. "To help raise awareness, the staff decided to wear red every Friday during the month of February. As always, the kitchen staff offers a heart healthy diet, and Sunrise's Director of Nursing and CEO, along with the rest of the team, have been offering free blood pressure checks in Virden."
Effects of Heart Disease on Women
Heart disease affects women differently than men, according to the National Heart, Lung, and Blood Institute. Factors that can raise women's risk of coronary heart disease more than that of men include:
Diabetes
Low levels of HDL cholesterol
Mild to moderate high blood pressure
Smoking
Sunrise Skilled Nursing & Rehab Honored Garrison and Weller During National Activity Professionals Week for Success in Engaging Residents
Activities Directors are a Key to Resident Happiness at Skilled Nursing Facilities
Feb 3, 2023
Sunrise Skilled Nursing & Rehab, the 85-bed subacute and skilled nursing facility, honored its activity directors, Angela Garrison and Meri Beth Weller, for their work in creating a stimulating and engaging resident environment.
The recognition came during National Activity Professionals Week, Jan. 23-27, 2023. Activity Professionals Week - established by the National Association of Activity Professionals (NAAP) - is a national week-long celebration that honors the efforts of activity directors at healthcare facilities. These professionals enhance residents' daily lives by providing opportunities to engage in recreational, intellectual, and creative activities.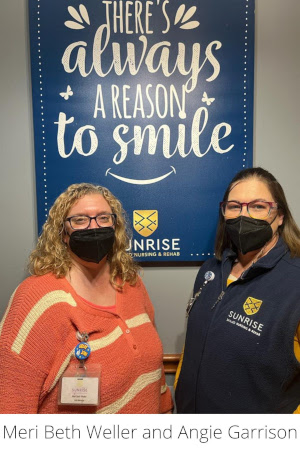 Addressing the needs of the community's senior population is what motivates these ladies every day. "We most enjoy getting to know the residents and seeing the difference we get to make in their lives by providing stimulating and exciting daily activities for them," Garrison noted.
At Sunrise, Weller said three of the most popular resident activities include:
Bingo and trivia contests
Coffee and conversations
Arts and crafts
Focusing on Quality of Life
Professionals like Garrison and Weller are key players in a facility's care team, creating innovative programming that positively impacts the lives of residents, and identifying new ways to collaborate and support the community. Both ladies have been with Sunrise for years. Every day, they strive to support the mission, vision, and commitment to providing quality care and innovative services for which Sunrise is known.
Research from the National Library of Medicine reports that social engagement promotes physical and mental health in older adults. Keeping their residents inspired, involved, and connected is how Garrison and Weller define their mission.
"I am passionate about my job because of my passion for our elders," said Weller. "I look forward to each day and getting to make a difference in their lives," added Garrison.
To become an activities director, it takes patience and compassion. Professionals working with an aging population meet certain professional standards to become adept and finally certified. They are masters of multi-tasking - providing opportunities for residents to engage in stimulating activities that improve their quality of life while creating a sense of community.
Sunrise Skilled Nursing & Rehab Builds Unique Staff Assistance Fund to Support Employees with Immediate, Unforeseen Financial Needs
Skilled Nursing Facility Established Fund; Will Match Employee Donations Through December 31
Dec 27, 2022
Employees in immediate financial need at Sunrise Skilled Nursing & Rehab can now get economic help to tide them over during difficult times, courtesy of the facility's employee assistance fund.
The unique fund, which is set up as a 501(c)(3) charitable organization, is administered for the skilled nursing facility by a third party, the Emergency Assistance Foundation (EAF). Employees can apply for financial grants - which may range from $500 to $2,500 - to help meet expenses for unforeseen disaster or personal hardship.
The applications and awards are handled directly by EAF, without the facility knowing who was awarded grants or their purpose, to maintain strict confidentially. To date, more than $75,000 has been donated in employee assistance grants.
Patty Barnes, Sunrise Skilled Nursing & Rehab CEO/Administrator, said the facility wanted to create a benefit for its staff that reflects part of its mission - treating employees as family - and can help staff in their times of need. "There are many reasons extra money may be needed, whether to deal with natural disasters, accidents, epidemics, illness, domestic abuse, or a death in the family," she said.
"In this season of giving, Sunrise is grateful not only to donate money to launch this fund but also to match employee donations dollar-for-dollar until the end of the year," Barnes said. "Employees are encouraged to donate to the fund - in addition to our organizational contributions - to potentially help their colleagues, providing even more impact."
Barnes said this fund is another way Sunrise fulfills its mission. "While our commitment is to provide genuine hometown care while becoming a vital partner in the community, none of that can be accomplished without ensuring the health, safety, and happiness of our valued teammates," she added.
Sunrise Skilled Nursing & Rehab Brightens the Season with Free Community Holiday Lights Display
Skilled Nursing Facility Spreading Cheer with Drive-Through Exhibition
Dec 16, 2022
In what has become an annual tradition, Sunrise Skilled Nursing & Rehab is inviting members of the Virden and surrounding communities to soak up the holiday spirit as they drive through the facility's holiday lights display.
Running from December 1 through December 30 - from dusk until 10 p.m., at the facility's campus at 333 Wrightsman Street in Virden - the display is open for the community to drive through and see the thousands of lights and holiday decorations.
"This is a special time of year and we love seeing the community decorated and all of our neighbors celebrating the joy of the holiday season," said Patty Barnes, CEO/Administrator of Sunrise. "We enjoy seeing visitors of all ages and from throughout the region drive through the display, enjoying the lights."
Sunrise Skilled Nursing and Rehab holds multiple events throughout the year as part of its mission to be a good neighbor. "One of our purposes is to give back to the local community, where so many of our residents and staff members grew up," said Barnes, "That's why we also have annual Easter egg hunts and visits from the Easter Bunny, as well as Halloween trunk-or-treat events, community clinics, healthcare information sessions, and more."